Mart 2022
ISBN:
Tıtle: Previous Planet
Written and Illustrated: Veli Kahraman
Publishing house:
Language: English, Turkish
Page count:
Cover Illustration and Graphics: Veli Kahraman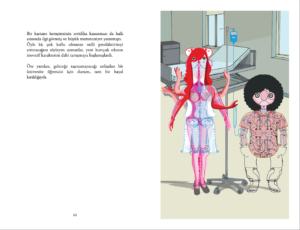 Written and illustrated by
Thousands of years ago, when this idea of MURI, an ordinary plumber on the planet inhabited by larvas, turned into an anti-state opposition; desperate administrators adopted the idea of "moving into a future based on the right to nonsense" as a management policy and, made MURI minister of transportation. MURI, who said the most powerful thing that had defined a state was "making rockets!", started his duty by saying he would build a "Transportation Vehicle to the Future". However, this spaceship designed by originating the God Mask, a well-known symbol in the Larva World, was not compatible with larvas' biology at all. Things got even more complicated because ZOE, MURI's advisory secretary, turned into a creature as a result of falling into a tank containing dark matter. On the other hand, this new body of Zoe was quite compatible with the transport vehicle. It was as if the vehicle was created for her specifically. Although she no longer looked like a larva, ZOE had a strange charm now. Still, it was not likely that the larvas wanted to look like a creature just to be transported into the future. Luckily, KOLIT, MURI's PR consultant, came up with an ingenious slogan for the campaign they were going to run: "The Future is Sexy!"
The Previous Planet is the product of a study spanning five years. I had begun to write a fairy tale for grown-ups on the larva world, when a second story, The "Previous Planet" came out of nowhere. When I started to illustrate stories, being in this world turned into a pleasant hobby for me… I would be happy to share it with you.
Veli Kahraman lives in Istanbul. Born in Ankara in 1967, he graduated from Mimar Sinan University Stage and Costume Design Department, BA and MA. Art Director and Production Designer of many feature films and TV series.
Scene and Costume Designer in Theatre. Graphic designer and illustrator. He is also a documentary film director and screenwriter, producer and director of the feature film "Where is my mother tongue". Lecturer at MSGSÜ Stage and Costume Design Department.
Previous Planet is the author's second story illustrated by himself and the second in the "Larva Stories" series.